4 Most Overlooked Areas In An Office That Needs Cleaning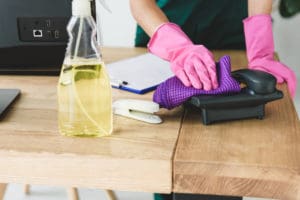 Even when you think you've cleaned every corner of your commercial office space, there's still a possibility of missing a few, less obvious areas. At Hitchcock Clean & Restore in Berks County, our janitorial services experts want to ensure you're comfortable and happy with the state of your commercial building. After all, maintaining a clean office space is not only important for appearance, but it's also important for the overall health of employees and anyone who enters the premises.
Our janitorial services team is trained to scope out and tackle those often overlooked spaces in a commercial building. Here is a list of possible places to keep on your radar when doing a thorough cleaning of your building:
Furniture & Upholstery
The different furniture around your office is often overlooked places when it comes to cleaning. Many people assume that "if it looks clean, then it is clean." Whether it be the couches in the lobby or the conference room chairs, it's best to get them cleaned before they become a breeding ground for germs. This includes getting in the cracks of the furniture cushions, as well as along the back and underneath.
Lights
Out of sight, out of mind right? Hopefully, this isn't the case. Lights are often overlooked because they're out of our line of vision. Unfortunately, dust and dirt are not afraid of heights, and you will definitely find them lurking in the cracks and surfaces of the ceiling. Light fixtures and light bulbs need their occasional dusting so they can maintain their brilliance. Cleaning them and surrounding areas on the ceiling will also help clear the air.
Vents & Ducts
While we're on the topic of clean air, vents and ducts are also an often-overlooked space when it comes to cleaning. Fans, heaters, and air conditioners move a lot of air around, including dirt and debris.
If the air regulators aren't cleaned regularly, the chances of dust buildup are high. In worse cases, mold and mildew buildup can also be an issue. It's important to consider the health and safety of your employees by ensuring they're breathing in clean air.
Curtains & Blinds
You probably clean your windows regularly, but do you normally get the curtains and blinds as well? Curtains and blinds tend to be forgotten unless they're visibly dirty or have a huge stain on them. Often overlooked is the fact that particles are piling up inside the fibers.
It's important to clean them consistently to prevent major buildup and unhealthy dust to spread throughout the commercial space.
Contact Hitchcock Clean And Restore Today
Let's face it – you may not have the time or resources to keep up with a consistent cleaning schedule. Our team of janitorial services professionals is trained in industry-approved cleaning methods to promote a healthy atmosphere for your commercial space. Contact us to schedule your next janitorial services appointment in Berks County. We'll be happy to serve you!