Commercial Cleaning In Sinking Spring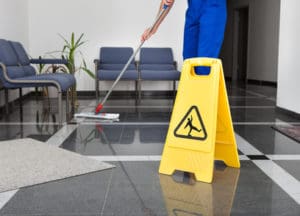 Sinking Spring's commercial buildings and offices often require more cleaning than the employees can keep up with alongside their daily duties. However, cleaning your offices and commercial spaces is extremely important during the COVID pandemic. Plus, starting the new year with a professional cleaning can help improve the production of employees, reduce safety hazards, and create a warm, inviting space for visitors and employees.
Sinking Spring And Routine Commercial Cleaning Services
Spaces That Need Extra Attention
Commercial offices and buildings often have a few areas in the building that have high foot traffic and are in need of extra attention and cleaning detail.
Bathrooms – Bathrooms are full of germs all of the time. Extra cleaning in these areas can help stop the transmission of bacteria and make the workplace more comfortable for employees. Plus – extra attention to the care of the bathrooms can keep people from slipping and suffering work-related injuries. Your employees will thank you for paying attention to the facilities and increase their overall comfort at the workplace.
Lunch Rooms/Break Rooms – If your office/building has a lunchroom, it probably needs extra attention too. Food and drinks spill on the floors, inside the fridge, under tables, and in other places. Crumbs can dirty up the floors and the foot-traffic coming inside the room can cause the floors to get dirty really quickly. Without proper cleaning and care, your floors could get damaged quickly. Professional commercial cleaning from Hitchcock Clean and Restore can improve the break time that your employees have and make them more comfortable at the workplace. Not to mention, keep costs down by saving floors and other areas from getting damaged.
Front Office – The front office may see a lot of foot traffic if you get visitors in and out of the office. This area requires extra attention because it is often the first impression potential customers have of your business. Garbage cans need to be cleaned, floors need to be properly cared for, vacuumed and shampooed, dusting is an annoying task for your employees but is a chore that your customers will notice if it's not done.
Floors – Schools and churches are often in need of intense carpet cleaning. These are high foot-traffic places that will easily see damage if they are not cleaned and taken care of regularly. School-aged kids are not the tidiest people on the planet and can cause stains and other types of damage to carpets, tile, and other floorings. Churches that have child care rooms and rooms for child classes often require more attention than rooms holding adult groups.
In Sinking Spring, all of your commercial cleaning needs can be met by contacting the professionals at Hitchcock Clean and Restore. We know all of the tricks to remove spots, stains, dust, and dirt the right way so that your floors and other building materials are protected and safe. We want our community to shine above the rest and commercial cleaning is the best way that business owners can empower their employees and present confidence to their customers. Contact Hitchcock Clean and Restore to learn more about our commercial cleaning services.