Keep Your Employees Happy With Commercial Janitorial Services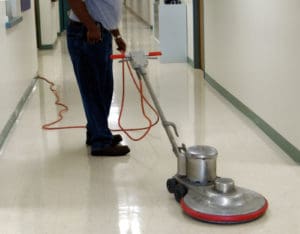 As a commercial building owner or manager, the safety and well-being of your employees, and all who enter the premises, is probably at the forefront of your mind. How do you maintain a high level of comfort and implement safety protocols within your interior space?
Putting in the effort to uphold a high standard of cleanliness can make a big difference in the look and feel of your building. Consistent sanitizing, vacuuming and mopping can help employees feel at ease in their work environment; however, we understand if you don't have the time or the means to clean and get the results you want. No need to fear! Hitchcock Clean and Restore is here to help you maintain a clean and healthy workspace for you, your employees, and your customers.
Commercial Janitorial Services In Sinking Spring
There are many benefits to maintaining a clean commercial office.
Increased Workplace Efficiency
No one wants to spend the majority of their day in a space that's unkempt and messy. If your commercial building could use some improvement in the cleanliness department, we recommend you prioritize this before anything else. When employees are assured their health and safety are protected, it frees their minds to focus on their work tasks and goals.
Sick employees who are unable to come into work can hurt the daily function of a business. The Society for Human Resource Management conducted a survey showing that poor attendance by employees significantly affects both co-workers and managers. Absences can add to the workload of co-workers who must complete tasks to keep the company running, causing them to potentially put their own jobs on hold.
Managers may also find it difficult to stay productive when they have to take time away from their regular duties to find replacement staff, reorganize the company workflow, and possibly conduct training for employees to handle tasks of the absent worker.
There's no way to protect every one of your employees from getting sick outside of the workplace, but continually making the effort to vigilantly clean and sanitize the areas that are in your control will make a difference.
Improved Business Or Company Image
Keeping your work environment clean not only boosts the well-being of your company, but it's also attractive to current and potential customers. You want to make sure your commercial space has a great impression on those who come knocking at your door.
When you hire a commercial janitorial services team, you can demonstrate to your customers that cleanliness, organization, and attention to detail are of utmost importance to your business culture.
Call The Hitchcock Commercial Janitorial Services Team To Schedule Your Next Cleaning
If you're looking for commercial janitorial services in Sinking Spring, call the experts at Hitchcock Clean and Restore. With over 20 years of experience, we have a thorough understanding of effective cleaning methods. We take health and safety very seriously and can provide you with high-quality services to help maintain a fresh, clean, and healthy work environment.