Get More Productive – How Professional Janitorial Services Can Help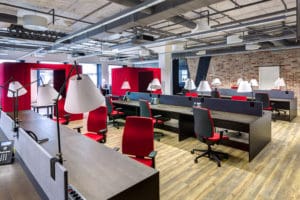 Have you ever walked into a business office that was crowded and cluttered? Or noticed dust piling up on blinds and bookshelves? Business owners have a lot on their plates and dealing with the daily cleanup of the office isn't a high priority. It's just not as crucial as the other responsibilities that need to be handled. However, having a clean, organized office can add great value to your business. The professional janitorial team at Hitchcock knows first-hand how valuable cleanliness can be to a business – with over 40 years of experience, we have seen it all!
Benefits Of A Clean Work Environment
Cleanliness itself is valuable. It just feels better. But, having a clean, organized workspace can seriously impact your business. Here's how:
Increased Productivity – Not only does a clean workspace look better but having an organized and efficient work environment can help your employees work smarter. They can stop procrastinating because of having trouble finding tools/items that they need and complete projects faster.
Limit Health Hazards – Clean and organized workplaces have fewer accidents and fewer people calling in sick. Removing clutter will reduce the risk of falls and trips, and the cleaner environment can help decrease illness-causing bacteria.
Better Attitudes – People like clean. It's nice to work in a clean space. Cleanliness encourages better moods, which leads to better work habits. Happier employees create happy customers and a lower turn-over rate.
Saving Money – Believe it or not, clean and organized workplaces can save a ton of money as opposed to dirty and cluttered ones. As you limit safety hazards from the workspace, your overhead goes down. Increased productivity means that you are getting more done, at less cost. Errors and mistakes are reduced which could save you money on time and material that might have been wasted. Organized tools and equipment have no need for replacement because everything has a spot and is easy to find!
Aesthetic Pleasure – Your customers, or anyone coming into your place of business will get an impression of you and your company based on the condition of your workplace. It's that simple. It's going to happen. A clean and put-together environment will create an image of reliability and professionalism to those coming in. A messy and disorganized environment will probably give the impression of poor and careless service.
How Do Professional Janitorial Services Help Out?
First, you don't want to waste your employees' time by trying to get them to cram cleaning into their already busy workdays. Many companies make the mistake of putting the cleaning tasks on different employees, normally this does not see a great outcome. Many employees resent cleaning, feeling it's not their job. Employees tend to get too busy and overlook cleaning duties. Professional janitorial cleaning services are by far the best choice for a company that wants to make the most of their business.
Cleaning is our ONLY task, so we stay focused.
Corners don't get cut; they get cleaned.
Bathrooms stay stocked and neat. This means less office drama and reasons for conflict among your employees.
Remove bad smells and keep them away. Walk into a fresh looking and fresh smelling work environment to start your day.
Your needs are our primary concern.
We are consistent, we base the cleaning routines on your needs and have a strong, local management team.
Your property will stay in better condition longer when you have the right people caring for it. We know how to successfully care for floors, restrooms, and carpets to make sure they are clean and protected.
If you are interested in professional janitorial cleaning services in Berks County, look no further. Hitchcock Clean And Restore are ready and available to help you with your cleaning needs!