Does Your Commercial Cleaning Company Beat Your Expectations?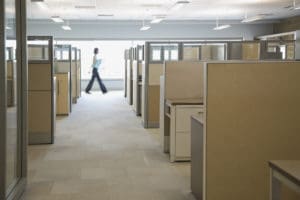 While a lot of businesses use cleaning companies to clean up their workspaces, the actual cleaning performed is usually minimal and unimpressive. When a business owner decides to spend money on a commercial cleaning company, they should make sure that the company they hire is going to deliver high-quality services. Hitchcock Clean And Restore offers superior janitorial cleaning to our Sinking Spring homes and neighboring businesses and wants you to know what you SHOULD expect from your professional cleaning company.
Barely Noticeable Cleaning –

Quick

vacuuming, taking out the trash and a wipe-down of the bathroom shouldn't be the bulk

of what your cleaning service does. The look, feel, and smell of your offices should be

obviously fresher and br

i

ghter. Windows and blinds will be dust-free, bathrooms will be

thoroughly cleaned, and even your office furniture will have a new glow. A great commercial cleaning company will SHOW you the difference with their performance

every time.
Communication – Many commercial cleaning companies work overnight while the employees are out. This doesn't mean that it should be difficult for you to get ahold of them. If you notice that you are having trouble contacting or getting replies from your cleaning company, it may be time for a change. A commercial cleaning service worth paying for will keep in touch with you and make sure they are meeting your expectations. Hitchcock's offers weekly walk-through's to ensure that we are meeting and exceeding your expectations.
Skipping Corners – You've given your cleaning company a list of what needs to b

e

completed each night but come in each morning to find that tasks have only been partially completed – unacceptable. If the trash is being gathered but left for you and your employees to take out to the dumpster or none of the bathroom supplies are being restocked, you need to find a new company to work with. Hitchcock Clean and Restore works with your best interests in mind and prides itself on making your life more convenient. Call us for an estimate if you need to establish a new, working relationship with a great commercial cleaning company!
Low Quality And Lack Of Expertise -Not all commercial cleaning companies offer the same level of services. Some companies provide the basics and do not have the expert level experience that others do. Like Hitchcock Clean And Restore, some companies offer more deep cleaning and restoration services that can benefit your company without having to rely on several different people. Our professional services include commercial cleaning, air duct cleaning, mold remediation, and water damage restoration.
We are committed to delivering the best customer experience and the highest level of clean as possible. To learn more about our professional commercial cleaning services and how we can help your company look, feel, and perform better, call us today!