Mold Cleanup Wyomissing Professionals: DO NOT DIY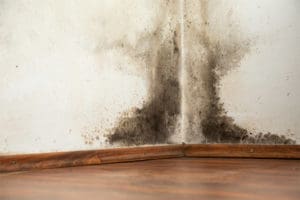 Before you try DIY – listen to the advice from the mold cleanup professionals in Wyomissing at Hitchcock Clean and Restore.
Mold Cleanup Wyomissing – Why DIY is NOT the Right Answer
Safety Comes First
Airborne mold spores can quickly spread once disturbed. So consider the size and scope of your problem before you begin any DIY cleanup. The rule of thumb is that a 10 foot/square area is manageable for a homeowner. However, if you think there is suspected mold behind the visible area, assume the actual infestation area is doubled, or more.
If you are going to attempt to fix it on your own, you need to gear up for safety. Respirators protect you from inhaling airborne spores, dust and construction debris. According to the EPA website, when cleaning up an area less than 10 square feet, use minimum PPE including eye protection and a respirator. An N-95 respirator covers both the nose and mouth, filtering out 95 percent of airborne particulates.
You'll also need gloves and loose clothing. If a mild detergent is being used instead of a biocide, ordinary household rubber gloves are suitable. The EPA recommends long gloves that extend to the middle of the forearm. When you are finished cleaning, you'll need to dispose of the clothing and gear, or thoroughly sanitize them.
Some DIY Methods
Bleach is the best option if you're dealing with a nonporous surface like glass or tile. Whatever you use the diluted bleach solution on, rinse off after. Don't mix bleach with vinegar or ammonia– noxious fumes can form. And avoid getting spots on your good clothes (or wear old clothes.)
White vinegar, hydrogen peroxide, or tea tree oil can be diluted with water in a spray bottle. Spray the surface, let it sit for 10 minutes, and wipe away. Baking soda can be dusted into dried carpeting after vacuuming to control mold from coming back.
Purchasing premixed products like Lysol Disinfecting Wipes, Tilex Mold, or Clorox Mildew Remover can amp up the cleaning power, but are only going to temporarily remove surface mold. If surface mold is present, you likely have a much bigger problem underneath and service and you'll need professional help from a certified mold remediator.
For A Larger Scale Mold Problem
For mold-contaminated surface areas of more than 100 square feet, full containment is recommended. If the home would be further contaminated due to high levels of airborne dust or mold spores, extra precautions should be made. Double layers of polyethylene sheeting must be placed to create a barrier between the moldy area and other parts of the building.
An area with doors between the contaminated area and the clean area, a decontamination chamber or airlock, should be built for entry into and exit out of the remediation area. This chamber should be large enough to hold a waste container and allow a worker to put on and remove Personal Protective Equipment (PPE). All contaminated PPE, except respirators, should be placed in a sealed bag within this sealed area.
​​Steps Hitchcock Might Take To Remediate Mold
If your home had recent water damage, but there is no visible mold growth yet, the team might apply a preventative antimicrobial agent that can also kill existing mold spores. To identify the source of your infestation, the team will use various technical tools to detect elevated levels of moisture including high-tech thermal imaging machines. After the identified source of intrusion has been repaired, the technicians will isolate the contaminated areas. Every step will be taken not to track spores to other areas of the home.
Negative air machines with HEPA filters might be used to clean the air throughout the project. Usually, all contaminated materials need to be contained and removed: drywall, carpet, insulation, and wood. The team will double bag the trash and dispose of it properly.
Time to Call Hitchcock Clean and Restore
Removing mold is challenging. It requires specific equipment and very specific training and certification in order to do the job properly. Mold can be a toxic health hazard and needs a knowledgeable team. In Wyomissing, Hitchcock's certified technicians are trained to inspect and recommend the best products and techniques to repair and prevent future damage.
Hitchcock Clean and Restore is a locally owned and operated disaster restoration company specializing in fire, water, and mold damage. Berks County's #1 rated emergency response company offers 24-hour restoration.