Tips And Tricks To Prevent Mold Growth And Removal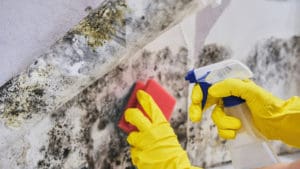 Mold growth can be invisible and happen in parts of your home that are hard to access. After having experienced mold problems before, or if you are overwhelmed by the amount of spaces in your home that mold could potentially grow on, it might seem like mold growth eventually in your home is inevitable. Hitchcock Clean and Restore crew is a team of mold experts, partially because we're certified and partially because it's what we do every day! While we know everything about effectively cleaning up mold, we also know a thing or two about preventing it in the first place. Here are our tips for preventing mold growth in your Wyomissing home.
Preventing Mold Growth In Wyomissing:
Monitor the moisture. Everyone knows that mold likes warm, moist areas. Keep the humidity at or below 60% for sure. 50% or lower is ideal. A dehumidifier can help you to monitor and regulate the amount of moisture in problem areas, thus reducing risk of mold.

Clean up water. If you have flooding or more minor accidents that result in wet materials in your home, dry them out as quickly as possible. Mold growth can begin to occur in some conditions in as little at 48 hours.

Prevent water damage. Scan our blog for tips on how to prevent water damage in general. It can be helpful to maintain regular upkeep of your roof, direct downspouts away from your roof, clean out your gutters to prevent standing water, repair dilapidated pipes and hoses. In addition, monitor your water bill. Unexpected increases from month to month can indicate that you have a leaky pipe somewhere that is causing water damage, and, yes, mold growth.

Improve air flow. Look through your home and identify past problem spots and areas that naturally don't have good ventilation. Basements, or bathrooms whose shower fans don't work well, are common targets. You can get mold anywhere where water can build up. Crawl spaces can also be culprits. Establish air flow in these areas using plug-in fans, the opening of windows and doors, dehumidifiers, and potentially, fixing existing bathroom fans or installing good fans/air movers.

Clean your bathroom with mold prevention and removal. Routinely open windows and doors in the bathroom to increase air flow. Use a squeegee after showers to remove most of the standing water left in your shower or on your mirror after you shower. When you clean with chemicals, use vinegar, bleach, or hydrogen peroxide (although, don't ever mix them!)

Add mold inhibitors to paint when you do home improvement projects or restoration after water damage. Mold inhibitors can be found at most home improvement or paint stores.
When it all comes down to it, you have a lot of control over mold growth prevention! That being said, you may be here reading blogs because you've already seen mold in your home. In that case, mold removal should be your first priority. Proper removal is of utmost importance for the health and safety of everyone who lives in your home. For mold removal in the Wyomissing area, Hitchcock Cleaning and Removal should be your first call.