Roof Mold – Prevention And Removal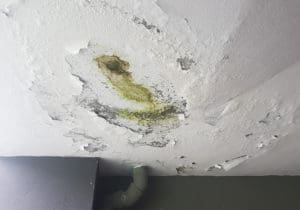 Roof mold can be a major problem for home and business owners. Mold is definitely unsightly, but it is also very damaging. Mold can cause serious structural damage to your roof, damaging the integrity of the property. It can also spread to other areas of your property – creating a bigger hazard and more expensive repairs. In Sinking Spring, Hitchcock Clean and Restore is certified and experienced in successful mold remediation and can help you get your home or business cleaned and restored quickly and safely. If you are unsure of the steps you need to take, call our team for a consultation!
Removing Mold From Your Sinking Spring Home Or Business
Roof Mold Vs. Algae
Algae is often found on the roofs of homes and businesses and can be mistaken for mold. Although algae may look like mold, it does not pose nearly as big of a threat. Algae isn't a health concern and isn't very likely to caused structural damage. Mold on the other hand can create major health concerns and can cause extensive damage to roofs and other parts of a building. To determine whether your roof is housing algae or being plagued by mold, it is best to consult with a professional. Algae on a roof can look a lot like mold. Determining what it is may be impossible without thorough mold testing.
Preventing Roof Mold Damage
Unfortunately, you cannot always prevent mold growth from happening. Whether it's the roof, the basement or the attic, mold can become an annoyance that you have to deal with as a home or business owner. However, there are a few steps you can take to reduce the risk of roof mold damage:
Keep rain gutters clean and free of debris. Clogged gutters cannot do their job of directing excessive water away from the roof. Be sure to keep the gutters maintained so that work as they should.

Routinely inspect the roof for any type of damage. Damage to the roof from storms or wear can reduce the risk of moisture being trapped on and inside the roof.

Keep debris off the roof. This includes leaves, tree branches, and even snow. Ice Dams are a contributing factor in water and mold damage for home and business owners.

Take immediate action if mold is found. The longer mold is allowed to sit and spread, the more damage it will do and the harder it will be to repair.
Removing mold from a roof is serious work. It can be dangerous and is best to be left to a professional mold remediation company. Different types of roofs require different mold removal processes. Mold removal requires the right equipment and procedures. Without these, mold removal is ineffective. Take the time to reach out to the mold specialists at Hitchcock Clean and Restore in Sinking Spring who can evaluate the extent of the mold damage to your property and safely clean and restore your roof – and any other area of your home or business that is being affected.