Understanding Mold And The Mold Damage Cleanup Process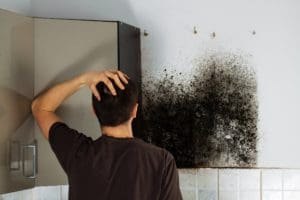 Most home and business owners understand that property mold can become an issue that needs to be dealt with. What some don't realize is that by understanding mold and the mold damage cleanup process, the mold problem can be handled better and likely at less of a cost. Taking the time to understand how mold happens can help you take preventative measures and understanding the mold removal process helps you know where to start and when to act.
Professional Mold Remediation In Sinking Spring
As a property owner, if you have questions regarding mold and how it affects your home or any portion of the mold cleanup process – don't hesitate to reach out to the professionals at Hitchcock Clean And Restore in Sinking Spring.
How Mold Starts
Mold in homes and businesses stem from moisture and humidity. If any type of water damage has occurred in a property, mold is a threat. Areas that are exposed to moisture, (bathrooms, attics, basements, crawlspaces, etc), have an increased potential to develop mold damage. All mold needs is moisture, humidity, and a food source like wood, drywall, or carpet. In fact, mold can use almost any material as a food source … and it doesn't take long for mold to start to grow after a moisture problem.
How To Detect Mold
You can have your property professionally tested for mold, but there are indicators that you can look out for. The musty, mildew smell that happens when mold is present is easy to identify. Especially if you smell it in areas that are more likely to see mold. Mold can also be found on the surface of ceilings, walls, floorboards, and other areas. Many times, surface mold can indicate a larger mold problem beneath the surface.
How To Clean And Remove Mold
Covering surface mold with paint or trying to clean it off with bleach will not get rid of mold. It has to be cleaned and removed by professionals with the right equipment and tools. In this day of do-it-yourselfers, it may seem tempting to open a YouTube video or research mold removal online, but that isn't going to do any good. The only way to make sure the mold problem is handled effectively is to contact a professional mold remediation team that is certified in proper mold removal and knows how to handle your property most efficiently.
Contacting A Professional
It starts with a phone call. Pick up your phone and call a licensed mold remediation company. If you have questions, they have answers. You don't have to deal with property mold blindly. There are certified and insured professionals who go through extensive training to understand how to safely and effectively cleanup and restore different properties damaged by mold. You will not be left in the dark and gaining an understanding of mold removal can take away the frustration and overwhelming feelings of having to deal with property mold.
You don't have to worry about mold when you contact the professionals at Hitchcock Clean And Restore. We employ high-standard ethics to make sure you are taken care of the best way possible. Our team utilizes industry-best methods to quickly and safely remove mold and get your home or business clean and safe again.