What Causes Indoor Mold?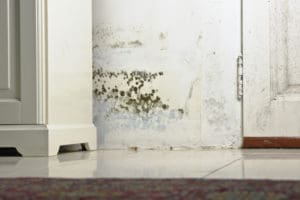 It doesn't take a lot for mold to grow in a home or business. Basically, if there is moisture, humidity, and a food source, mold spores can begin to grow in as little as 24-48 hours. It can be difficult to find the source of the mold, but Hitchcock Clean and Restore use state-of-the-art equipment and advanced mold removal methods to find the mold and it remove it safely.
Moisture is the biggest factor in mold growth. Mold often comes from a small leak in the home that has gone undetected. That is why it's so common to find mold in basements and attics, or other places of the home that are not visited or seen often. When Hitchcock comes into your home to investigate mold, we always look for the source of the mold to make sure that it is fixed so that the mold problem does not return. If you have a water leak, it will be cleaned up, repaired, and restored.
Condensation is another cause of mold. Condensation collects on cold window sills, cold metal pipes, and even on concrete floors. Have you noticed the condensation building on a bathroom window sill after taking a shower? Those spots are prime locations for mold growth.
Humidity plays a key role in mold growth as well. Moisture inside your property evaporates and creates humidity inside. Poor ventilation in the home will increase the humidity and can cause mold growth. Mold is often found in attics and basements of homes and businesses with poor ventilation and moisture.
Unavoidable water disasters like indoor flooding can cause mold to grow if proper remediation does not happen within 24-48 hours. It is almost inevitable. If the water cannot be extracted and dried immediately, the chances of mold growth are likely. Depending on the severity of the flooding, toxic mold could become a concern. It is important to stay out of water that has been standing for several days. Contaminated water can lead to serious illness and even death. In these circumstances, stay away from the disaster until a professional has been able to assess the amount of contamination and damage.
Hitchcock Clean and Restore are specialists in water damage restoration and mold remediation and can clean and repair any damage caused by flooding and mold. If there is mold in your Wyomissing home or office, call our certified and insured mold remediation specialists. Our team will come in, find the exact source of the mold problem and make sure that the source of the problem is repaired and restored completely. After the source of the problem has been eliminated, we will make sure all of the mold spores are removed safely. If you have questions about indoor mold and the remediation process, please call the experts at Hitchcock Clean & Restore today.