Why Should My Business Hire a Professional Cleaning Service?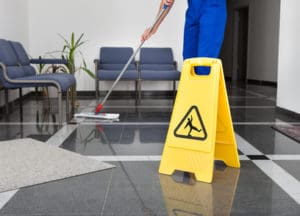 Having a professional-looking, clean office is a must for any good workplace environment. Walking into a clean room lifts everyone's spirits and helps them be motivated to prepare for the day ahead. To save a little money, a lot of companies try to do this cleaning independently which can be a huge headache, and if not cleaned properly may be a huge blow to the overall morale of the office. Here are a few reasons why it is a good idea to hire a professional janitorial team.
Higher quality cleaning
No matter the efforts you put in to keep your office clean, it simply can't compete with the services a professional janitorial team can offer. There is a lot more to keeping an office clean than simply reorganizing and decluttering. A professional service team will know what to do. They will also have better cleaning materials so your office will be cleaner and therefore safer.
 Improved health
Frustrated having employees calling in sick when you need them at work? The workplace can be a breeding ground for seasonal sicknesses and other undesirable germs. Studies have shown that having a clean work environment. As mentioned above, a professional cleaning service will be more thorough and have better sanitization materials. As a result, your employees will be healthier and will be more likely to come to work.
 Delegating the work can decrease morale
No employee wants to have menial cleaning chores adding to their list of other work assignments. It can be a mess to organize throughout the workplace, and did I say no one wants to do it? Hiring a janitorial service will take that added burden off of your employees and will improve the morale throughout the office. It goes a long way to show your employees you value and respect them.
 Good first impressions
Obviously, the first thing anyone who comes into your office will see will be its appearance. If you have your workspace professionally cleaned you can be assured the cleaning will be high quality and you won't need to be stressed about making a good first impression. You can be assured the appearance of your workplace will always be appealing and inviting.
When it comes down to it, your life can be so much simpler if you hire a professional janitorial service. The overall cleanliness of your work place will greatly improve, your employees will be healthier, they will be more motivated to come and work in a clean environment, and you can be sure the first impressions you make for others visiting your workplace will be top notch. Located in Fleetwood, Pennsylvania, Hitchcock Cleaning and Restoration is here for you to keep your workplace clean. What started as a small family-owned business over three decades ago has grown into one of the region's largest cleaning and restoration companies. We have the experience and the know how to deliver great results and so you never have to worry about the cleanliness of your workplace.