Water Damage: 101
When your Fleetwood, PA home or business suffers from a flood or a water leak there is bound to be water damage. Water damage can range from a small spot of water in an isolated location to an overwhelming flood that damages your entire home or business. The type of water damage restoration services needed depends on what type of water was involved. Water damage is broken down into three different categories.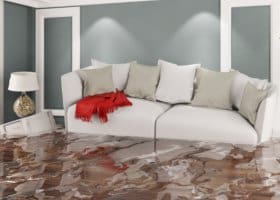 Clean Water. Clean water is water damage that is from a clean source of water, like the supply lines to dishwashers and washing machines that require clean water. This type of water does not have any contaminates or dangerous bacteria.
Grey Water.  Grey water is water damage that comes from water that has some contamination, likes the discharged water from appliances. This type of water usually contains contaminants with chemicals that are biological or physical that can cause mild discomfort and sickness.
 Black Water. Black water is water damage that comes from unsanitary water. This type of water can come from sewer lines, ground surface water, or standing water. When grey water is not removed in a timely manner it can become black water.  This water is harmful and contains bacteria and fungi that will cause severe discomfort and sickness.
Each category requires a different method of proper removal and cleanup. Depending on the category and the severity of the water damage the restoration process can be as simple as wiping up a spill and drying the area, or can require a professional water damage cleanup specialist to completely cleanup and restore the water damage.
Water Damage Can Lead to Mold Damage
 Other issues such as mold and mildew grow can arise when dealing with water damage.  Mold and mildew require their own specialized treatment in order for the water damage restoration process to be fully effective.
When you hire a professional to take care of your water damage issue the first thing they will do is find the source of the water damage and resolve it.  The water damage professionals at the Hitchcock Clean and Restore in Fleetwood, PA will then procedure to remove all of the water from your property.  All affected areas of your home or business will be cleaned, sanitized, and dried.
While minor spills just as a glass of spilled water can often be address by homeowners, other more severe water damage instances may require professional water damage and mold removal services to completely rectify the problem.  It you are suffering from water damage or mold damage contact the professionals at The Hitchcock Clean and Restore in Fleetwood, PA.
Our professionals are available 24/7 and can are standing by to help you in your time of need.